Need a Tree Removed in South Brisbane?
For the past 2 decades, Eden Trees Arboriculture Services has has set the standard in terms of safety, attention to detail, customer service and fantastic value for money tree services. With some of the most competitive prices in the tree removal industry and providing all our customers with free advice and assistance over the phone everyday, its not hard to see why we are one of the most respected tree removal companies in southern Brisbane.
Pro Trade Service Award winners
Our clients have thought highly enough of us that in 2019 we won the Protrade service award which recognises businesses for exemplary customer experience.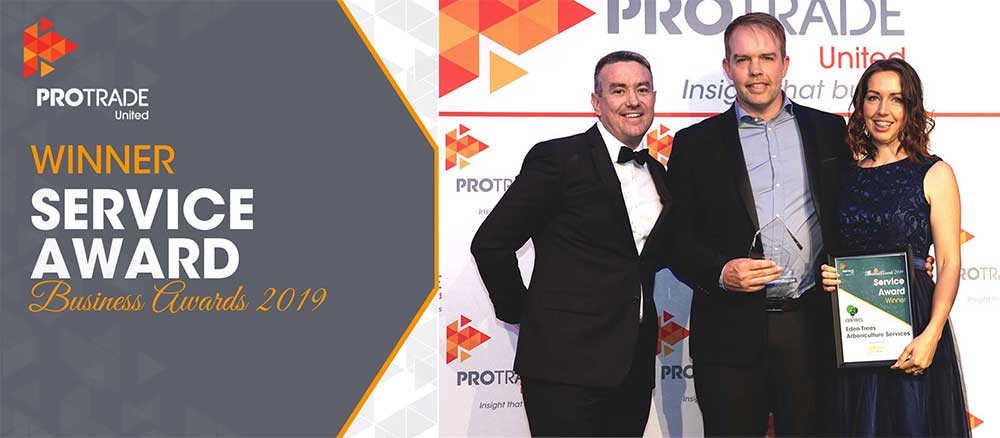 Southside Tree Removal Services
Over the years we have heard so many stories of from people who have been injured trying to conduct their own tree removal projects. When it comes to trees, often there are no second chances. Many folks will under estimate the weight, even in what may seem like small branches of a tree and a branch does not have to be very big at all to be destructive. Climbing arborists spend years learning how to safely dismantle a tree and an equal amount of time learning the safe use of tree removal tools and equipment.
Eden Trees Arboriculture Services Brisbane QLD, have a wealth of experience on our team including certificate 5 Consulting arborists to certificate 3 climbing arborists, all with decades of experience in the industry. As a tree lopping company we have gone from strength to strength, and have been able to stand the test of time. We believe our success has been due to our impeccable safety standards coupled with a truely value for money and customer orientated service.
As a time tested company we have been able to acquire all the tools and equipment to handle tree services of any scale and nature. This includes small scale tree trimming and brush pruning tasks right up to large scale land clearing operations for roads or developments. We work with everybody right the way through from residential home owners, strata managers, commercial business's, Schools, golf courses, Local governments and councils, department of transport and main roads and even other tree removal contractors in times of need. If you have any type of tree maintenance required then we are surely thew right fit for you.
Source here: Tree Removal Experts Brisbane Southside. published by https://www.edentrees.com.au.
The post <span>Tree Removal Experts<br class="hidden-xs"> Brisbane Southside</span> appeared first on Eden Trees Arboriculture Services.